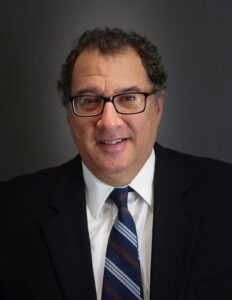 Email: DBamberger@akabas-sproule.com
Phone: (212) 308-8505
Education
Brandeis University B.A., magna cum laude, Phi Beta Kappa, 1979
Harvard Law School J.D., 1982
Admissions
New York, 1983
Various federal courts
David's areas of specialty include commercial litigation; arbitration and mediation; securities-related litigation and arbitration; malpractice claims, including legal and accounting malpractice; employment-related matters including discrimination claims; restrictive covenants; and insurance and subrogation. David has been trial counsel in several public-figure and other defamation cases.
At the beginning of his career, David worked for two major law firms in New York,
Simpson Thacher and Skadden Arps.
David was also general counsel of two public companies, TPI Enterprises, Inc. and Inamed Corporation, and a senior counsel at MacAndrews and Forbes Holdings, Inc. and at Merrill Lynch. 
As has been publicly reported, David won a $2 million arbitration award for a New
Jersey pediatrician, Noel Wiederhorn, and his wife (the case twice went to New York's highest court, the Court of Appeals); a $7.0 million confirmed arbitration award for a New Jersey businessman; a $2.3 million arbitration award for an executive of a U.S. greeting card company; a $1.49 million arbitration award for an Israeli investor; a $1.5 million arbitration award for the family partnership of a retired NYC businessman and philanthropist; and a $1.5 million arbitration award for a NYC-based hotel operator.
David also represented an LLC investor in an American Arbitration Association
arbitration involving a loss of more than $75 million on an investment of $100 million. See
ERIP LLC v. Tavakoli, 2009 NY Slip Op 31750(U). After five days of hearings, David was able
to obtain a settlement for his client. In the same case, David won an unusual but successful
motion requiring the hedge fund to make an in-kind distribution of approximately $14 million in securities even before the case went to hearing.
David also represented American Committee for Shaare Zedek Hospital in Jerusalem in a
$7 million avoidance action brought in U.S. Bankruptcy Court by the Trustee in the Madoff
bankruptcy proceeding, and David has been heavily involved in other Madoff-related litigation.
He is also pursuing numerous deserving claims for investors through the Department of Justice's Madoff Victim Fund (MVF).
David has been quoted frequently in the New York Post, Thomson Reuters, Bloomberg, New York Law Journal, Law360, and The Wall Street Journal relating to his victories over Madoff colleague Ezra Merkin. See, e.g., Law360 May 3, 2012 ("Madoff Feeder Fund Can't Shake $1.8M Judgment"); New York Post January 31, 2012 ("So Sorry, Merkin – Ordered to pay greeting card king $2.3M"). See also Forbes.com July 9, 2010 ("The Usual Wall Street Defenses Aren't Working") (reference to the successful Wiederhorn arbitration). 
Earlier in his career, David successfully represented and argued in the Second Circuit for, among others, author Jackie Collins. See Jackie Collins Lerman v. Flynt Distributing Co., Inc., 789 F.2d 162 (2d Cir. 1986).
David, who is married to a corporate attorney, has two grown daughters and resides in Manhattan.
David's reported wins include:
H&M Trading Company LLC v. Mossery and SM Textile LLC, No. 653399/2018 (N.Y.
Sup. Ct. 12/02/2018) (affirming arbitral award made in favor of David's client on $500,000
arbitral award and granting his request for legal fees under promissory note). The award was later converted into a judgment for $578,796.58 and was satisfied in full by defendants.
The JC Group, LLC v. 3 West 35 th Company, LLC, No. 655916/2016 (N.Y. Sup. Ct. 12/03/2018) (granting David's client summary judgment and recovery of legal fees under a commercial lease). The case was soon resolved in its entirety via mediation. EK Development LLC v. Rakib, No. 655778/2017 (N.Y. Sup. Ct. 08/21/2018) (sustaining on motion to dismiss a complaint filed by David on behalf of three clients under a $1 million promissory note).
Zohlman v. Zoldan, 132 AD3d 568 (1st Dep't 10/22/15) — obtained affirmance
of judgment in CPLR 5225(b) turnover proceeding;
Telesco v. Neuman, 2015 WL 2330166 (SDNY 3/11/15) — obtained dismissal of $1m+
fraud claim under Bridgestone/Firestone principles;
Merkin v. Berman, 130 AD3d 434 (1st Dep't 7/2/14) — obtained reversal of defective
lower-court ruling granting request for indemnification of arbitration expenses in an Article 75 proceeding;
Seldon v. Lembeck, 2014 NY Slip Op 30483(U) (Sup. Ct N Y Cnty 02/28/2014) —
obtained dismissal of claims against noted wine writer for libel and infliction of emotional
distress;
Sapirstein-Stone-Weiss Foundation v. Merkin, 950 F.Supp.2d 621 (S.D.N.Y. 06/11/13) —
successfully resisted motion to dismiss claims for fraud and breach of fiduciary duty, invoking tolling under American Pipe.
Alexander Gliklad v. Michael Chernoi, No. 602335/2009 (N.Y. Sup. Ct. 11/05/2009)
(denying summary judgment in lieu of complaint to holder of a $270,000,000 promissory note signed by David's client).
While at Merrill Lynch, David obtained more than 25 zero arbitration awards for his
client.
While with Inamed, David was featured in a full-page profile in the National Law
Journal. It appeared in the April 16, 2001 issue.
While with TPI Enterprises, David, with the assistance of Skadden Arps, settled a case
with a U.S. subsidiary of Siemens AG, for a payment of $43 million to TPI. David was quoted
in the November 21, 1991 edition of The Wall Street Journal in connection with that victory.